"加州狂这种建筑风格是加州本性的写照——天真、直接、毫无矫饰。这些建筑是为了吸引眼球、为了让人留下印象而设计的。它们没有经过任何广告公司包装,往往是店主自己怀揣推销的急切欲望来设计,再用钢筋混凝土灌造的。"——书背面的文字。《加州狂——路边民间建筑》(California Crazy & Beyond: Roadside Vervancular Architecture)由Jim Heimann和Rip Georges于1980年编汇完成。
"California Crazy is the style of architecture that seems to typify California itself: naive, direct, unpretentious. These buildings were designed to catch the eye, to be remembered. No ad agency conceived them – they were often designed by the owners themselves, poured of ferro concrete and shaped by the undisguised desire to sell." – From the back of California Crazy & Beyond: Roadside Vervancular Architecture. The book was compiled by Jim Heimann and Rip Georges in 1980.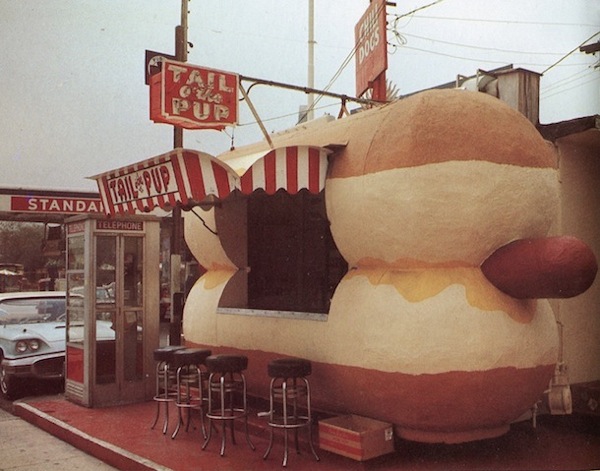 "小狗形状的热狗店,长得像日本寺院的古董铺,van de Kamp的风车形状的面包房,状似搁浅船只的房子——这些仅仅是《加州狂——路边民间建筑》中收录的稀奇建筑里的几个小例子。扩展后的版本收录了Jim Heimann二十年前所搜集的386张照片。作为平面设计师和历史学家,热衷于南加州波普文化的Heimann已经在全美发现了更多具有加州狂设计理念的建筑物,但是他仍然坚持这种风格发源于南加州,且在此最为普遍。"——《出版者周报》
理论上来讲是这么回事——从前,1923年或者1934年或者1940年——你开上一条通向市内的双向高速公路,比如说66号或者1号或者101号或者25号,你开到郊区,车速35英里/小时(约56公里/小时),然后你就需要一个醒目的东西来把你的注意力吸引到卖热狗或者汉堡或者汽油的地方。于是店家就戳一只巨大的狗或者鞋子或者飞机或者城堡或者蘑菇或者印第安棚屋在商店外面,你看到它就停下来吃饭、喝咖啡、加油、来个冰激淋或者甜甜圈,吃饱喝足后再继续你的旅程。
作者告诉我们奇形怪状的餐厅和商店在1920年代和1930年代最为鼎盛,其中洛杉矶的"棕礼帽"(Brown Derby)最出名。地处蒙罗维亚(Monrovia),拥有装潢精巧的房间、酒吧和玛雅圆柱仿品的阿兹特克旅馆(Aztec Hotel)位居第二。
《加州狂——路边民间建筑》为读者展示了三百多张照片。Heimann指出很多这种可爱的建筑已经被拆毁,而且直到20、30年前,还都无一例外地被老派的建筑师们取笑。当然啦,它们实在太好玩了(墨西哥人叫它们"tacos de ojo"——眼睛的美食)!但Heimann说这个传统还在延续着——比如Longaberger Basket Company在俄亥俄州建造的巨型篮子建筑和那些令人叹奇的杀虫剂公司的卡车,每辆的上面都有巨大的刺臀鱼、甲壳虫、以及其他毛茸茸的生物。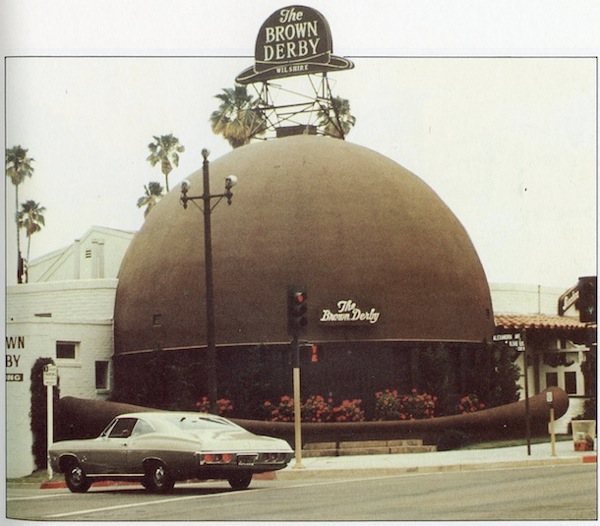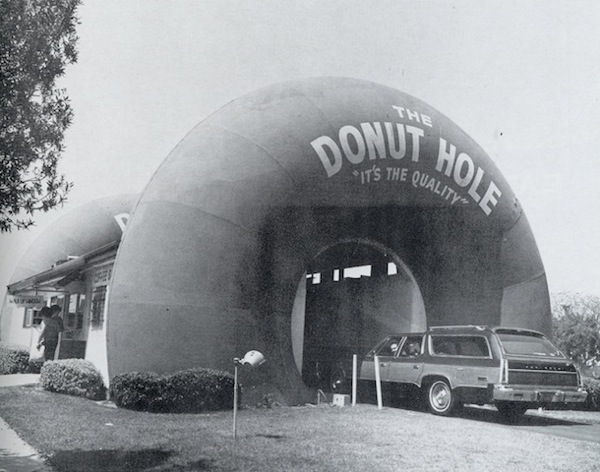 作者带我们回到了十八世纪,为我们展示了这种风格的先驱——Jean-Jacques Lequeu设计的谷仓长得像奶牛,Charles-François Ribart设计的花园凉亭状似大象,还有1884年起草的科尼岛巨象宾馆(Colossal Elephant of Coney Island),唉,只可惜没建成。最吸引读者的则是书封面上的"伤心小狗餐厅"(Sad Doggie Diner),飞机一样的餐馆,还有和搁浅的旧船一样的住房,锚和舷窗一应俱全,主人是个"好莱坞女星"。除此之外还有坐落在宾州布林莫尔(Bryn Mawr)外的梅因赖恩(Main Line)里的"手斧餐厅"(Pulaski Diner),是一辆市际旅行车改造成的一个油滑的大勺子,人们半夜就聚在这里吃汉堡。但是这些并不是作者所提到的"规划建筑",就是说它们并不是你先凭空想好要一顶圆礼帽,或者一个胖嘟嘟的甜甜圈,或者一颗红色的大番茄,然后再用它们来宣传你的产品的。恰恰相反,它们更适合被归类为方便至上的建筑,或者更确切地说,废物利用的建筑。毕竟"手斧餐厅"从前的确曾在费城和西彻斯特(West Chester)之间的铁轨上英勇奔驰过。它只是跑光了蒸汽,停在了路边,换掉了直背座椅,装上了火车座,又有了充足的油脂和锅炉蒸汽——然后一个大学餐厅就诞生了。(翻译:文汐)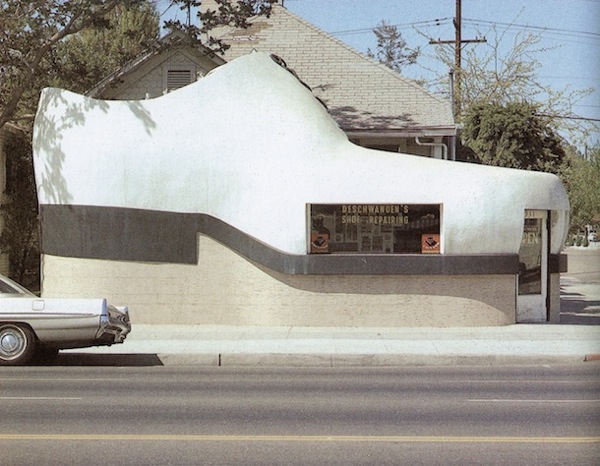 From Publishers Weekly: "A hot-dog joint shaped like a puppy, an antique store replicating a Japanese temple, Van de Kamp's windmill-shaped bakeries, houses resembling beached boats these are just a few of the architectural curiosities featured in Jim Heimann's California Crazy & Beyond: Roadside Vernacular Architecture, an expanded edition, including 386 color and b&w illustrations, of his California Crazy of nearly 20 years ago. SoCal pop culture devotee Heimann (Sins of the City, May I Take Your Order?), a graphic designer and historian, has tracked down more examples of the "California Crazy concept" from all over the country. He maintains, however, that it originated and still exists mainly in Southern California."
The theory was that back then — 1923 or 1934 or 1940 — that you would be driving into town on a two-lane highway like 66 or 1 or 101 or 25 and you would get to the outskirts and you'd be going thirty-five miles an hour and you would need something quick to attract your attention to a place where they sold hot dogs or hamburgers or gas and so what they did was to stick a big dog or shoe or airplane or castle or mushroom or wigwam out there, and you would see it and you would stop and fill up on food, coffee, gas, ice cream, doughnuts before you resumed your voyage.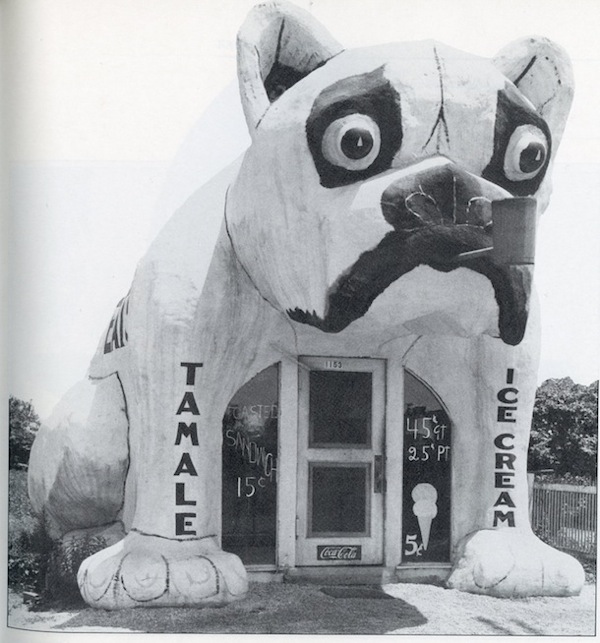 The author tells us that strange forms for diners and whatnot were in their prime in the 20s and 30s — the Brown Derby in Los Angeles being the most famous of these, although the Aztec Hotel in Monrovia was second best with its elaborate rooms and bar and ersatz Maya columns.
California Crazy gives us almost three hundred photographs. Heimann points out that many of these delicious figures have been torn down, and until twenty or thirty years ago, were uniformly derided by classical architects. Of course: they are just too much fun (as the Mexicans would call them, they are "tacos de ojo" — food for the eyes.)
But Heimann says the tradition lives on — viz., the huge basket building built by the Longaberger Basket Company in Ohio and those wonderful trucks for pesticide companies which have big roaches, beetles, and other hairy creatures growing out of the tops of them.
Author takes us back to the 18th Century, to several antecedents: a barn in the shape of a cow by Jean-Jacques Lequeu, a garden kiosk in the form of an elephant by Charles-François Ribart, and the Colossal Elephant of Coney Island designed in 1884 but, alas, never built. The most charming, at least to this reader, is the Sad Doggie Diner on the cover, the restaurant in the shape of an airplane [Fig 3 to your left], and a house in the shape of a beached boat, complete with anchor and portholes, owned by "a Hollywood starlet." Also not shown is the Pulaski Diner, on the Main Line just outside of Bryn Mawr in Pennsylvania which was an interurban car converted to greasy spoon, where we adjourned at midnight to fill up on hamburgers. But then again, that might be not what the author calls "programmatic architecture" — in which you fashion a bowler hat, or a fat doughnut, or a big red tomato from scratch, and use it to sell your wares. Rather, it might be thought of as architecture of convenience or, better, recycling. For the Pulaski diner at one time did race along on rails between Philadelphia and West Chester. It just ran out of steam, and was parked along the Pike where they replaced the straight-backed seats with booths and a plentitude of grease and steam — and a college diner was born.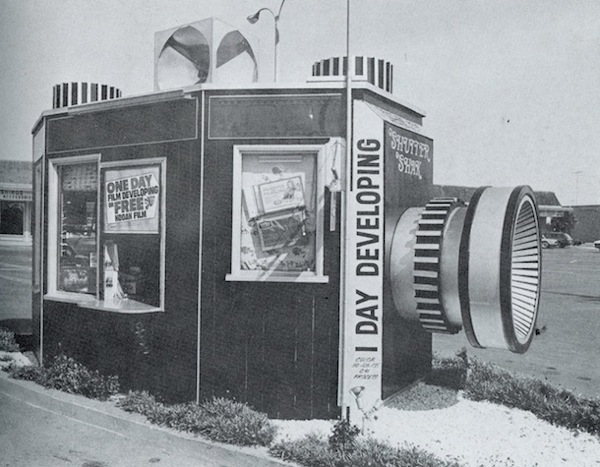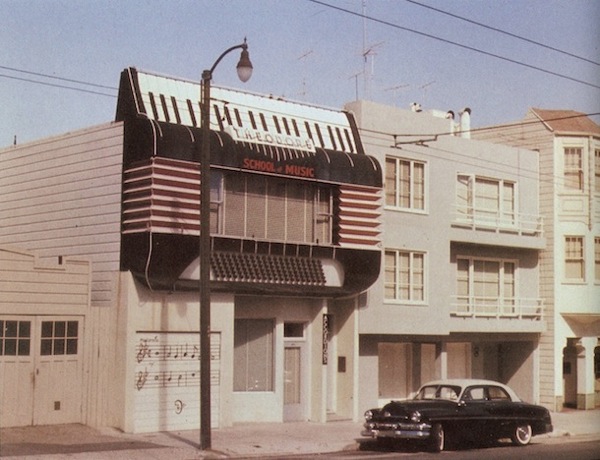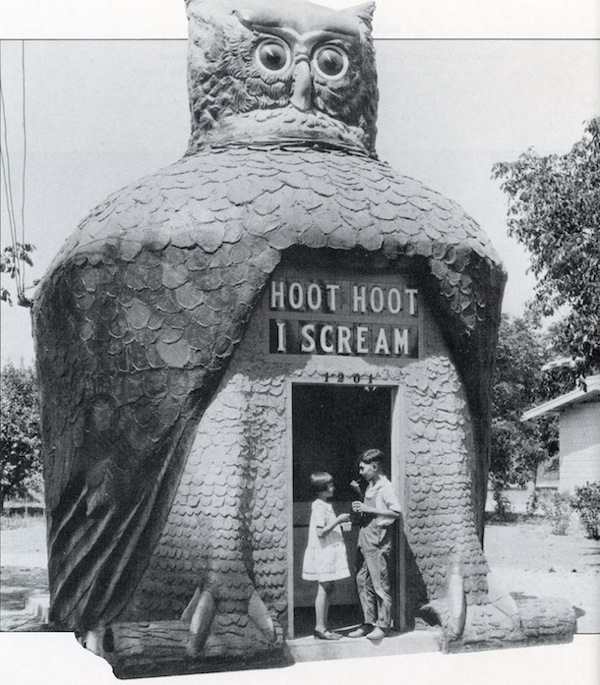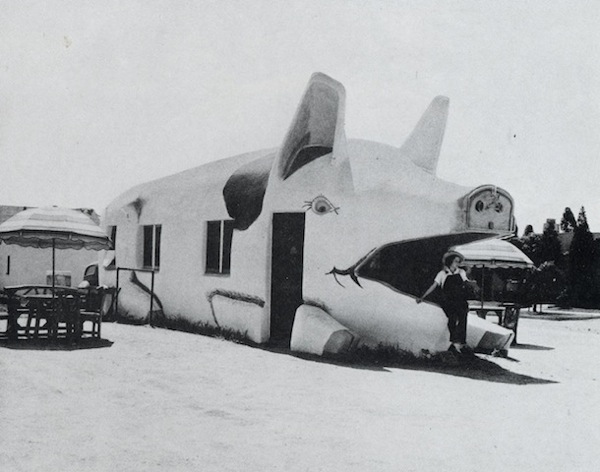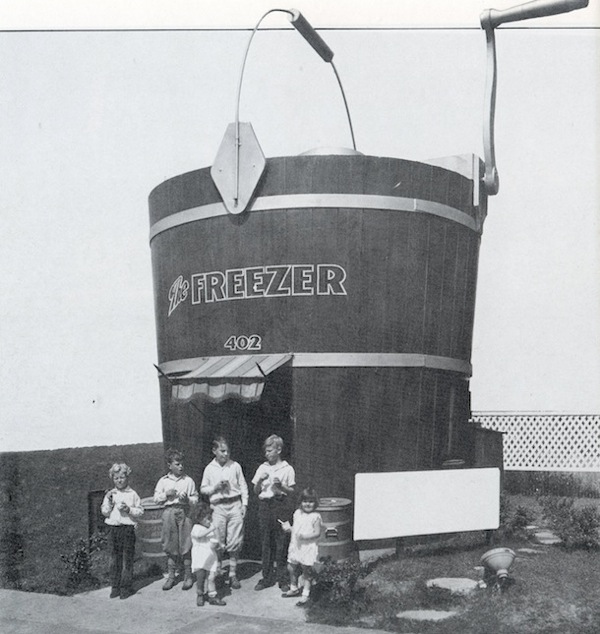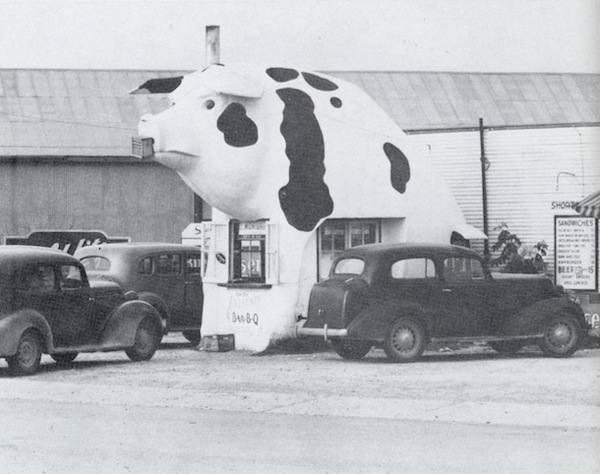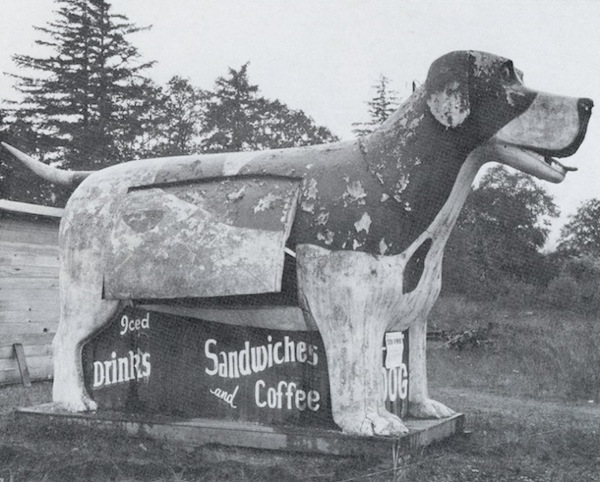 翻译免责声明:
译文仅供www.voicer.me作为信息分享时使用,用作读者阅览原文时的语言辅助,并非官方翻译件,不可以任何形式发行、出版;
本次翻译属志愿行为(不计薪酬)。翻译件不可以任何方式盈利;
译文内容仅代表原文著者的观点,不代表译者观点;
如发现翻译有误,欢迎您来信告知,我们将即时处理;
如需转载,请务必注明原文及信息来源;
本声明修改及最终解释权归译者所有。