在Patti Smith的回忆录《Just Kids》中,初见1960年代末到70年代的Patti Smith和Robert Mapplethorpe的照片,这对爱人意气风发,尖锐鲁莽。这些照片的摄影师是Patti Smith当年的密友Judy Linn,就在前不久,她出版了新书《69-76 Photographs of Patti Smith》,其中收录了100多张还不到30岁的Patti Smith的照片,那时候,他们三人都只是孩子。
"我们是两个不取悦于任何人的女孩。"-Patti Smith
她的朋友Judy Linn是一个刚刚开始摄影的艺术生。作为一个年轻的艺术家和诗人,Patti Smith对作为模特与另一位艺术家共同创作很感兴趣。她们一起创作了影响很大的静物和时装摄影。近日,《纽约时报》编辑Mark Bussell和Judy Linn通过面谈、邮件和电话的方式聊了聊这些作品。
Patti Smith's friend Judy Linn was an art student who had just begun to make photographs. Ms. Smith, a young artist and poet, liked the idea of being a model and working with an artist to collaborate on images. Together, they created a series of photographs that echoed film stills and fashion spreads. Readers saw a few of these photographs in Ms. Smith's memoir, "Just Kids." Now, more than 100 of the photographs have been collected in "Patti Smith 1969-1976" published this month by Abrams Image.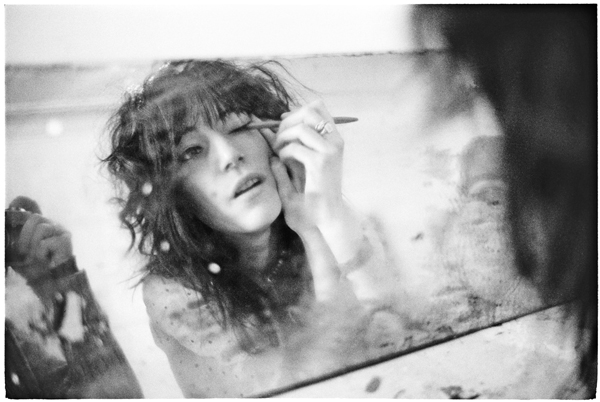 1968年,当她遇到Patti Smith时,她正在Pratt Institute学习,是她们各自的男朋友Peter Barnowsky和Robert Mapplethorpe介绍她们互相认识的。最初,她们一起画画,后来才开始拍照。经由导师Philip Perkis的启发,Judy Linn发现摄影扩大了她的视野。"那时我正在看纽约时报上Gosta Peterson为Henri Bendel做的广告," Judy Linn说,"我爱时尚。我是看着Lana Lobell的宣传册和Katy Keene的漫画长大的。我从未对任何一本时尚杂志说过'不'。"Patti Smith也研究电影与时尚,于是成为了Judy Linn灵感的源泉。她们将很多次会面想象成电影场景,"我为我们自己的电影试镜," Patti Smith后来写道,"我总是能拿到角色。"她也说Linn印的照片与众不同,"温情却毫不妥协。"
她们设计服装、道具以及Patti Smith要表现的人物。有一些照片看起来是提前摆好姿势的,有一些不。"那就是我们的目的",Judy Linn说。"在电影《Two Weeks in Another Town》的最后一幕中,Vincente Minnelli演绎了一趟疯狂的酒驾,情感上真切得能把你吓傻——尽管你明知道那是在演戏。"她说,"我在寻找情绪上的真实感,而且我喜欢难以界定其类型的照片。"朋友和情人也在这两个女孩所创造的摄影世界里现身。书中包括了Robert Mapplethorpe在床上穿衣服准备出门的照片,以及Judy Linn为宣传Robert Mapplethorpe设计的珠宝所拍的照片。"总体来说,我们对摄影的意义有非常不同的感触," Judy Linn回忆道,"Robert注重完美,我则偏爱残缺。"
Robert Mapplethorpe向摄影鉴赏和收藏家Sam Wagstaff引荐了Judy Linn。"Sam Wagstaff对收藏有着无边的热情和永远好奇、无所不包的眼光,而且幸运的是,他有能力去收藏,"她说。"和他一起吃晚饭、装上胶卷、然后在他的公寓里欣赏他最近入手的杰作是一大乐事。"Judy Linn在Vassar教书,她的作品被收藏在the Whitney,the Getty和the Dallas Museum of Fine Arts等机构。她的作品有强烈的个人风格并且充满了视觉上的幽默感,她不排斥平凡的事物,在她的作品中,奇特的和寻常的共生共存。
Judy Linn究竟如何看待和Patti Smith的合作?"它的意义深长到足够让我一直做下去,"Judy Linn说,"Patti Smith不仅仅是一个杰出的表演家、模特,更是一个非常有欣赏力的观众。我只希望别人也会懂。" (翻译_Luke)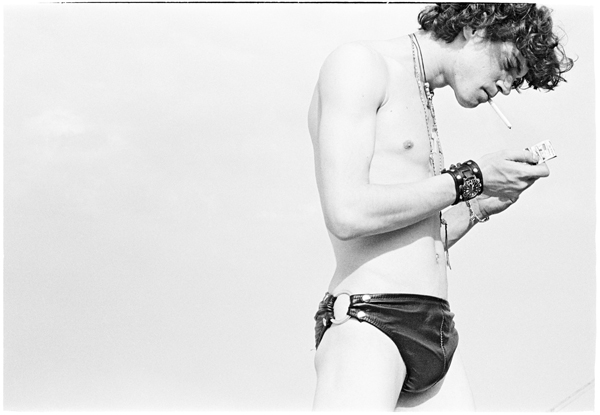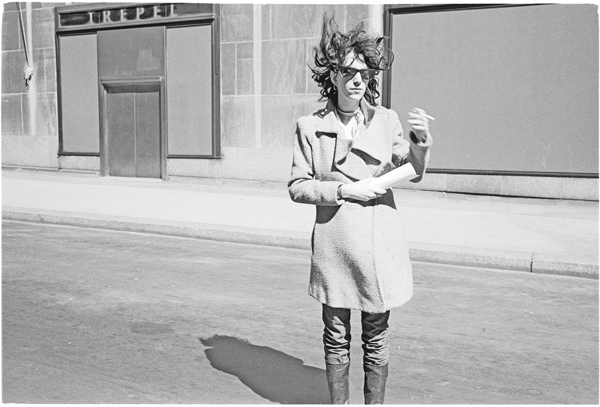 Ms. Linn spoke with me recently about the work — in conversation, through e-mail and over the phone. She was at the Pratt Institute in 1968 when she met Ms. Smith. They were introduced by their boyfriends, Peter Barnowsky and Robert Mapplethorpe.
At first, the two women drew together. Then they started taking pictures. Ms. Linn, inspired by her teacher Philip Perkis, found that photography magnified her vision. "I was looking at Gosta Peterson's ads for Henri Bendel in The New York Times," Ms. Linn said. "I loved fashion. I grew up on Lana Lobell catalogs and Katy Keene comics. I have never said no to a fashion magazine."
Ms. Smith, who was also examining films and fashion, became her muse. Many of their sessions were imagined as movie scenes. "I auditioned for our own movies," Ms. Smith wrote in the afterword, "and I always got the part." She also said that Ms. Linn would print pictures unlike anyone else's, "tender and gritty."
The two conspired on the clothes, the props and the characters Ms. Smith would portray. Some photographs look posed, and some don't. That was the intention, Ms. Linn said. "In the final scenes of 'Two Weeks in Another Town,' Vincente Minnelli stages a crazy, drunken car ride that is so emotionally correct, it scares you silly — even though you can see it is a very phony dramatization," she said. "I am trying for emotional veracity, and I like it when the photos fall between categories."
Friends and lovers also made appearances in the photographic world the two women were creating. The book includes images of Mr. Mapplethorpe in bed and dressing to go out. It also includes images that Ms. Linn shot to promote the jewelry Mr. Mapplethorpe was making. "In general, we had very different ideas of what we wanted from a photograph," Ms. Linn recalled. "Robert was interested in perfection. I prefer imperfection."
Mr. Mapplethorpe introduced Ms. Linn to Sam Wagstaff, the photography curator and collector. "Sam had a curious, omnivorous eye and a bottomless passion for collecting and, luckily, he had the means to do it," she said. "It was a great pleasure to eat dinner with him, get loaded and hang around his loft looking at his recently acquired masterpieces."
Ms. Linn teaches at Vassar. Her pictures are at the Whitney, the Getty and the Dallas Museum of Fine Arts, among other institutions. Her body of work is idiosyncratic and filled with visual wit. She doesn't frame out the mundane. In her images, the odd and the obvious coexist. Her latest show, which includes the photographs in the book, opens Saturday, at Feature Inc in New York.
Did she ever believe her work with Ms. Smith would become significant? "It was significant enough to me that I kept doing it," Ms. Linn said. "Patti was not only a great performer-model, but also a very appreciative audience. I could only hope others would understand." (via)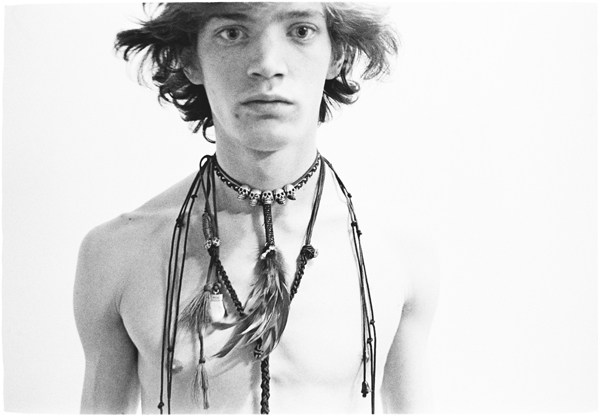 Judy Linn的自白:
文字与图像从本质上水火不容,永远不能相称。我说不出我要做什么或者做过了什么,但是我知道我在追求什么,我想要做什么。我可以说出我的目的地,但说不出我是怎样着陆的。
刚开始的时候,我很讨厌那些我无法控制的——在摄影的瞬间所看不到的烦人的东西,莫名其妙地跳进画框里。可现在那是我最喜欢的东西,但我仍旧追求准确,只不过"准确"是个含糊的词。我并不是指摄影的质量。我认为Cezanne, Ingres,和Willem de Kooning都是准确的,而Ansel Adams并不准确。当你看到Hiroshige木版画里的漩涡,你会觉得那只是一个想象出的表现方法,毕竟木版画能有多准确?可是如果你去看那漩涡,你会发现他为你呈现的正是那漩涡的真实模样。
我认为当一个人第一眼看到一张照片,他会不假思索地问,"这是什么?"我想要能立刻解答这个问题的照片。我追求极致的直白——所谓"朦胧"是语法不好。但愿纸上二维的形状排列会和照片中所捕捉到的三维世界一样精彩。照片中也应该有一些你从未见过的东西。在观赏的过程中,一些事物应随之成形。
我想要可以让我感觉到面前的实物的照片,可以让我迷失其中的照片。这就好像让自己讲一个笑话——你并不知道答案是什么,放弃,然后当看到笑点时真正放声大笑。(翻译_Luke)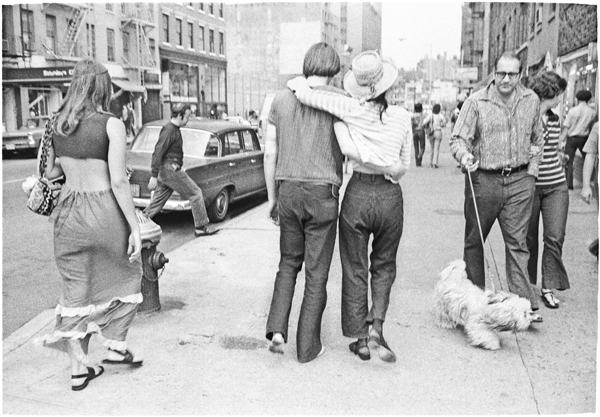 Here is how Linn explains herself:
Words and pictures by nature don't agree. There is no good fit. I can't say what I do or have done, but I know what I want, what I try to do. I can tell how I aim. I can't say how I land.
When I began, I hated what I couldn't control—all the annoying things I couldn't see in the moment of taking a photograph, the crazy stuff that jumps into the edges of pictures. Now I like that part the best. But I do want to be accurate, although "accurate" is a slippery word. I don't mean a quality of photography. I think Cezanne, Ingres, and de Kooning are all accurate. I don't think Ansel Adams is accurate. If you look at a Hiroshige woodcut of a whirlpool, you figure it is a fanciful rendition because how accurate can a woodcut be? But if you go to see the whirlpool, you see that he is telling you exactly what it looks like.
I think when someone first looks at a photograph they automatically wonder, "What is it?" I want a photograph that easily answers that question. I want to be extremely obvious; obfuscation is bad grammar. Hopefully, the two-dimensional arrangements of shapes on the paper will be as lively and interesting as the three-dimensional world trapped inside the photograph. There should also be something there you haven't seen before. Something should happen in the act of looking.
I want a photograph that makes me aware of what is physically in front of me, a photograph that gives me the pleasure of getting lost. It is like asking yourself a joke: not really knowing what the answer is, giving up, and then seeing the punch line and really laughing. (via)
翻译免责声明:
译文仅供www.voicer.me作为信息分享时使用,用作读者阅览原文时的语言辅助,并非官方翻译件,不可以任何形式发行、出版;
本次翻译属志愿行为,翻译件不可以任何方式盈利;
译文内容仅代表原文著者的观点,不代表译者观点;
如发现翻译有误,欢迎您来信(pinko[a]voicer.me)告知,我们将即时处理;
如需转载,请务必注明原文及信息来源;
本声明修改及最终解释权归译者所有。